Garden stone can be used for a whole array of garden projects from steps and paving to walling, rockery and landscaping, which can be purchased from our store in Hull. Garden stone can also be used for water features and pond ornaments and edgings, even a bench can be crafted from garden stone.
Create stunning natural gardens with natural stone, ornamental garden stone can include pebbles large and small that are usually roundish in shape or big square stone blocks stood on end to create monoliths or mini stone circles (like Stonehenge). large stone rockery pieces are used for big landscaping projects and small rockery pieces are used for small garden rockeries consisting of 4-5 pieces of garden stone, this can create a nice focal point in a small garden.
When choosing your garden stone there are lots of different types of natural stone to choose from, each with its own unique shape and color. Certain stone may not be suitable for the garden. Some stone types taken from the sea or formed by ancient seas may be porous and can contain salt that is washed out when weathered in the garden, this is not good for your plants or your pond life.
Artificial manufactured garden stone is cheaper than natural stone but will only last years compared to hundreds of years that a good hard wearing natural garden stone will last. Natural stone is much higher quality than artificial and manufactured garden stone.
Use natural stone to add colour, texture and character to any garden. Use natural stone to blend in with the natural surroundings your garden sits in. Using stone as a material for your garden will give it unique character shaped by nature and time. New garden stone may change color over time depending on its surroundings.
Garden stones can be very heavy even when they are small, be careful when moving or placing stones in your garden they can also have sharp edges so wear some heavy duty gloves. Try and use mechanical assistance if possible such as a mini digger or a rough terrain forklift truck for larger stones.
Yorkstone can be used safely as a garden stone for your plants and your pond projects be it submersed stones or used for pond edgings and rockeries. Yorkstone is very hard wearing and come in all shapes and sizes making it suitable for all garden stone projects.
The picture below shows large pieces of yorkshire sandstone garden stone used for a large rockery and pond.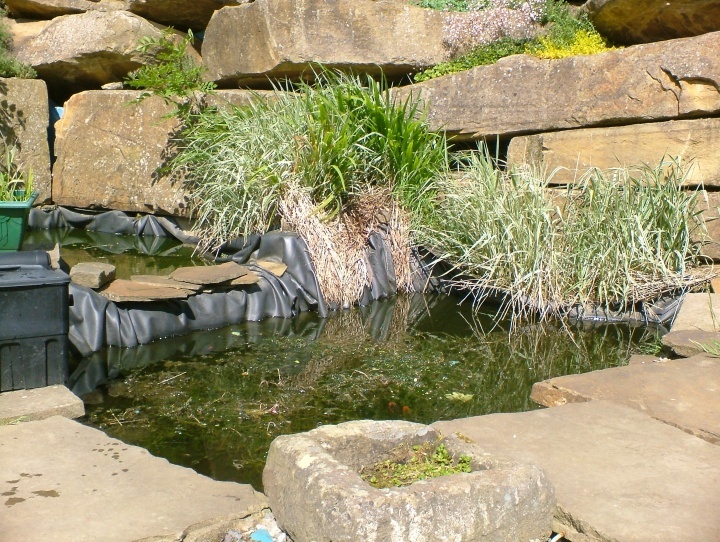 The picture below again shows large blocks of yorkstone garden stone used as a monolith or a mini stonehenge