Quarrying massive stone blocks with an Excavator in a Yorkstone quarry. The Excavator struggles to move the blocks because they are so big and heavy. The stone blocks are 2-3 meters deep and over 6 meters long and can weigh up to 50 tons. The overburden has to be removed before the ashlar blocks can be quarried. The overburden mainly consists of soils, shale's and clays and large and small rocks and boulders.
The ashlar blocks are the lowest of the stone blocks to be removed from the yorkstone quarry, the flagrock blocks are removed first because they are higher in the quarry than the ashlar blocks. Above the ashlar block  is a layer of  grey blue colored hard shale.
The stone blocks have to be drilled with a pneumatic rock drill and broken down with plugs and feathers and a large hammer called a maul, the plugs are struck with the hammer forcing them down into the stone block, breaking it along the drill line.
These stone blocks are ashlar blocks and are used for all kinds of sawn york stone products, ashlar blocks are sawn into scants or smaller blocks and slabs to be used for sawn yorkstone paving and for new yorkstone walling and copings also known as wall tops, other building products made from ashlar block include steps, heads and sills for doorways and windows also quoins, mullions,  jambs and pillars.
Ashlar blocks are also carved by masons into almost any shape and size, mainly for restoration of parts of old buildings built with yorkstone.  Ashlar blocks cannot be riven (split) like the flagrock blocks that are used for riven yorkstone paving.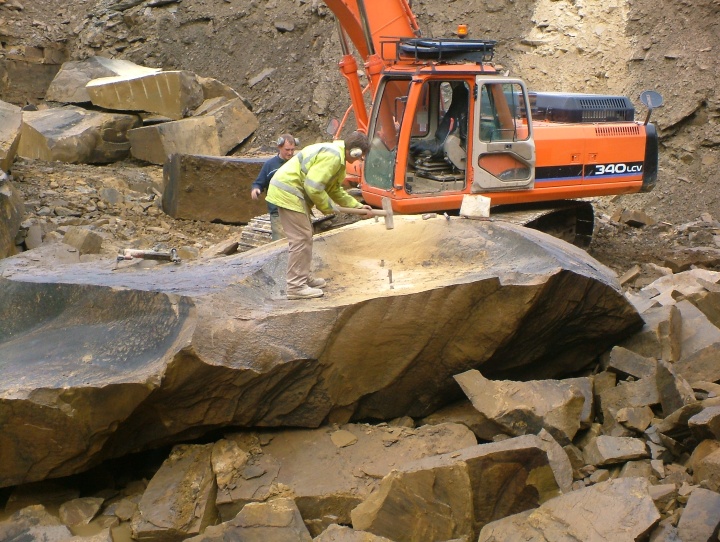 To see our other quarrying videos check the links below.