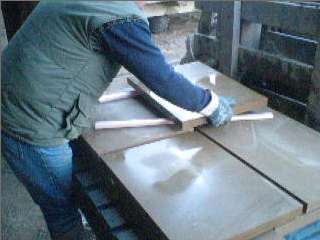 Sawn yorkstone paving is a stunning natural stone paving made from the best sandstone in the world. Strong and durable sawn yorkstone paving will last a lifetime. Yorkstone sawn paving has a smooth polished or honed surface with a sandy yellow colouring. Yorkstone sawn paving can be used with its natural surface or it can be varnished or stained to give it a shiny surface or wet look.

Yorkstone is a porous stone meaning it will soak up water or other liquids if not sealed with a sealant, this could cause staining if dark liquids are spilt on the stone, a sealant or varnish will prevent any staining. If the stone is used in an outside environment the yorkstone sawn paving will weather naturally dark green to black if not regularly cleaned or sealed.
Yorkstone sawn paving is used in houses, office buildings, hotel lobbies, garden patios and other building projects, sawn yorkstone is also used as exterior paving interior flooring for kitchens and bathrooms also made into tiles for matching.
Made from sawn yorkstone slabs or scants that are cut from the ashlar block, the slabs or scants can be cut to any thickness required usually 50-60mm for exterior paving and 25-40mm for interior flooring. Cut to gauged widths and or gauged lengths or sawn random.
Yorkstone sawn paving was not available until the introduction of the industrial stone saws. Old yorkstone that looks like sawn yorkstone such as fireplaces headstones was chiseled flat with a bolster like chisel then smoothed with a rubbing stone. Old yorkstone paving could be mistaken as having a sawn surface but the old paving stones were riven and have been made smooth over time by the many people that have walked on them.